A B O U T   T H E   P H O T O G R A P H E R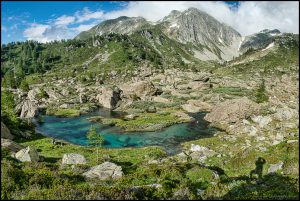 Hi and welcome to my tiny space in the www! This site documents some of the trips where I could combine my favourite outdoor activities; trekking and photography.
I'd love to tell you a corny story about how I picked up a camera as a kid and was instantly hooked but in reality, I haven't been particularly interested in photography until my mid-20ies. I started playing around with a Panasonic pocket cam during a big 'round-the-world trip I did with my girlfriend, a journey which produced many unforgettable moments. Home again and eager to shoot better pics, I got a used Sony A7, dug my dad's old Canon AE-1 out of the attic and instantly loved the interplay of manual aperture and depth of field of the old FD lenses. I tried some modern(ish) lenses after that but finally got back to all manual lenses, mostly 80ies pieces of Minolta, Olympus or Canon that I adapt on my A7.
Most of my favourite photographs are taken in the wilderness, after backpacking for many kilometers. To my mind, it doesn't get much better than pitching the tent next to a sweeping glacier, among towering canyon walls or in the middle of an old growth forest.
Please contact me below with any questions, comments, or requests. Have fun!
Florian