Red & Green Down Under – a glimpse of OZ's overwhelming natural diversity, with impressions from Western Australia's red rock outback and rich green forests of Southern Victoria and Tasmania.
Part I / The Red: Colors of Karijini in Western Australia 
The Pilbara region and Karijini National Park in particular are remarkable places. During our travels, we haven't seen much of Western Australias backcountry, but what we've seen is nothing short of spectacular.
After a long and bumpy drive from Karratha in a rental vehicle very, very unsuitable for that ~200km stretch of Roeburn-Wittenoom dirt road, we eventually arrived at Auski Tourist Village at the intersection of Munjina Road and the famous Great Northern Highway. Auski is nothing to write home about, we were just happy to be back on bitumen and get some sleep. So let's just fast forward to the interesting part, the beauty of Karijini National Park.
Hancock Gorge + Kermits Pool
One of the expected photographic highlights was our early morning walk into Hancock Gorge to Kermits Pool, one of the better known natural wonders in Karijini Nationalpark. Also, the very worthwile 'walk' in the Gorge itself awaits with sections of scrambling, climbing rock ledges and swimming. Drybag's a must-have for anything that may not get soaked.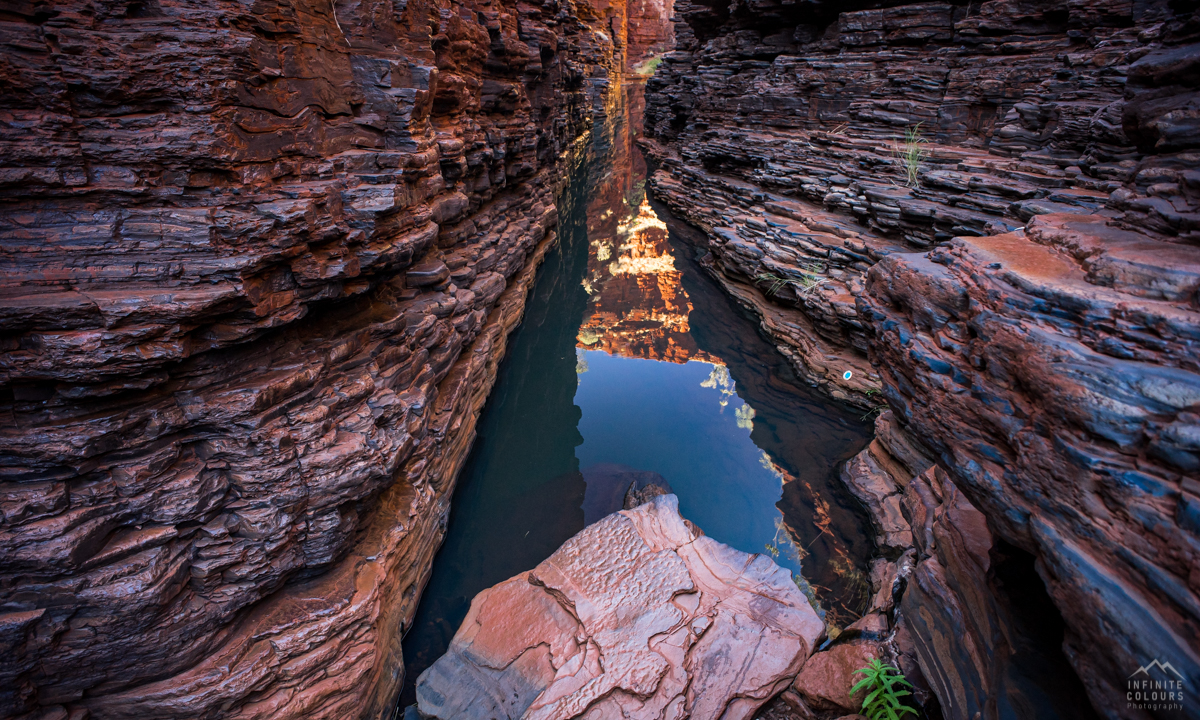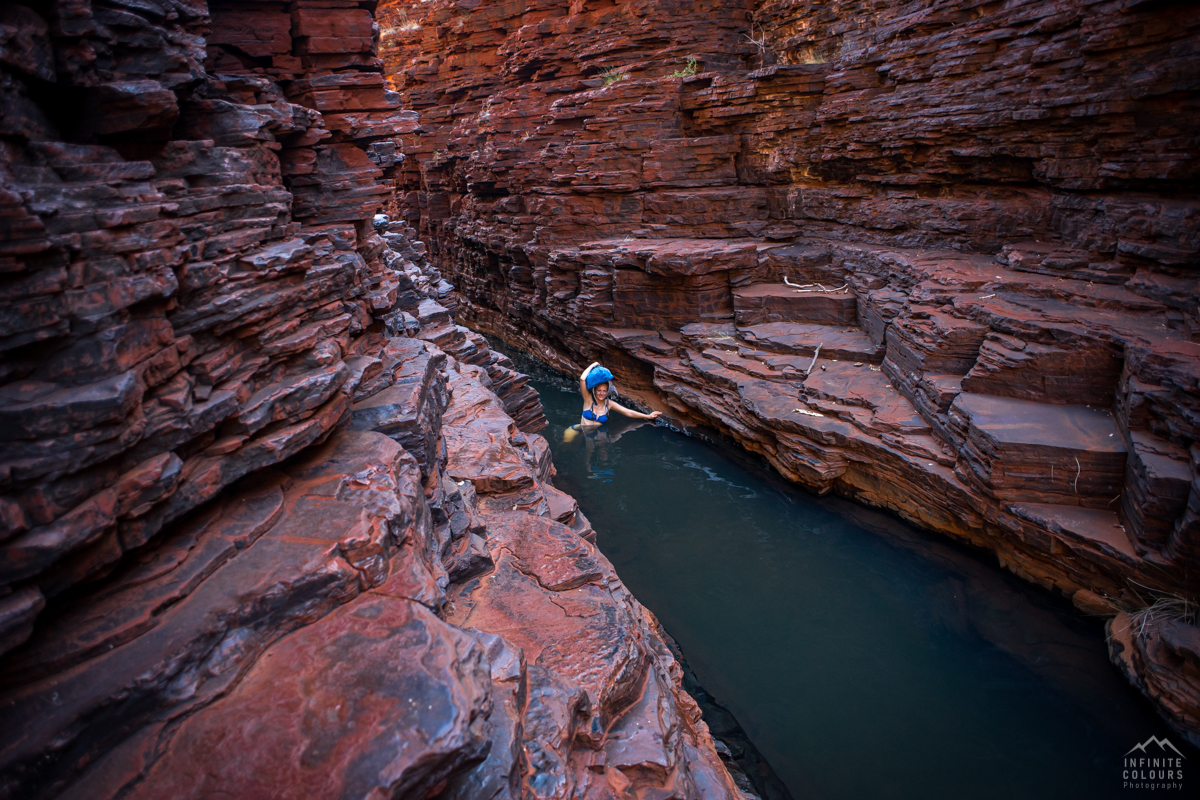 Kermits Pool welcomed us with a great early morning mood. Within imposing rock walls, truely amazing colors were generated by the indirect light on the so-called banded iron rock formations. A spectacular place full of unique colors and textures, amazing.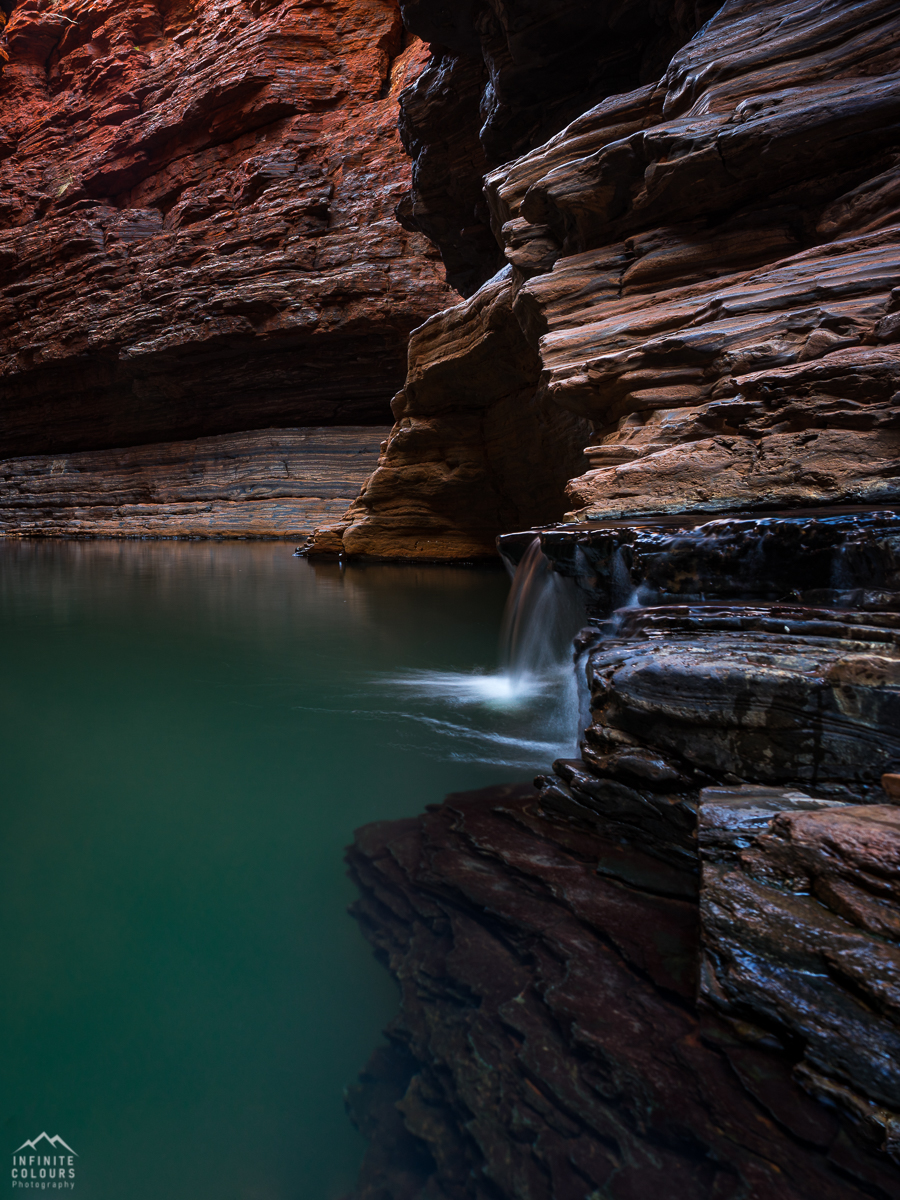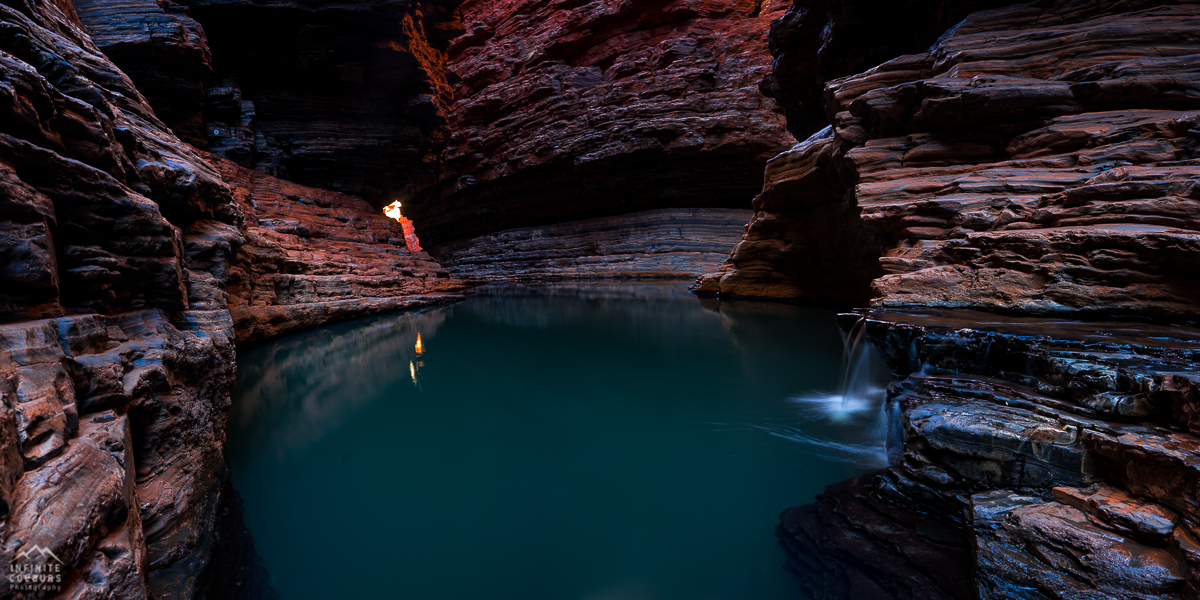 Until just after sunrise, the colours were beautifully mute and soft. When the sun rose a bit and hit the higher canyon walls, the play of light really intensified for a couple of minutes.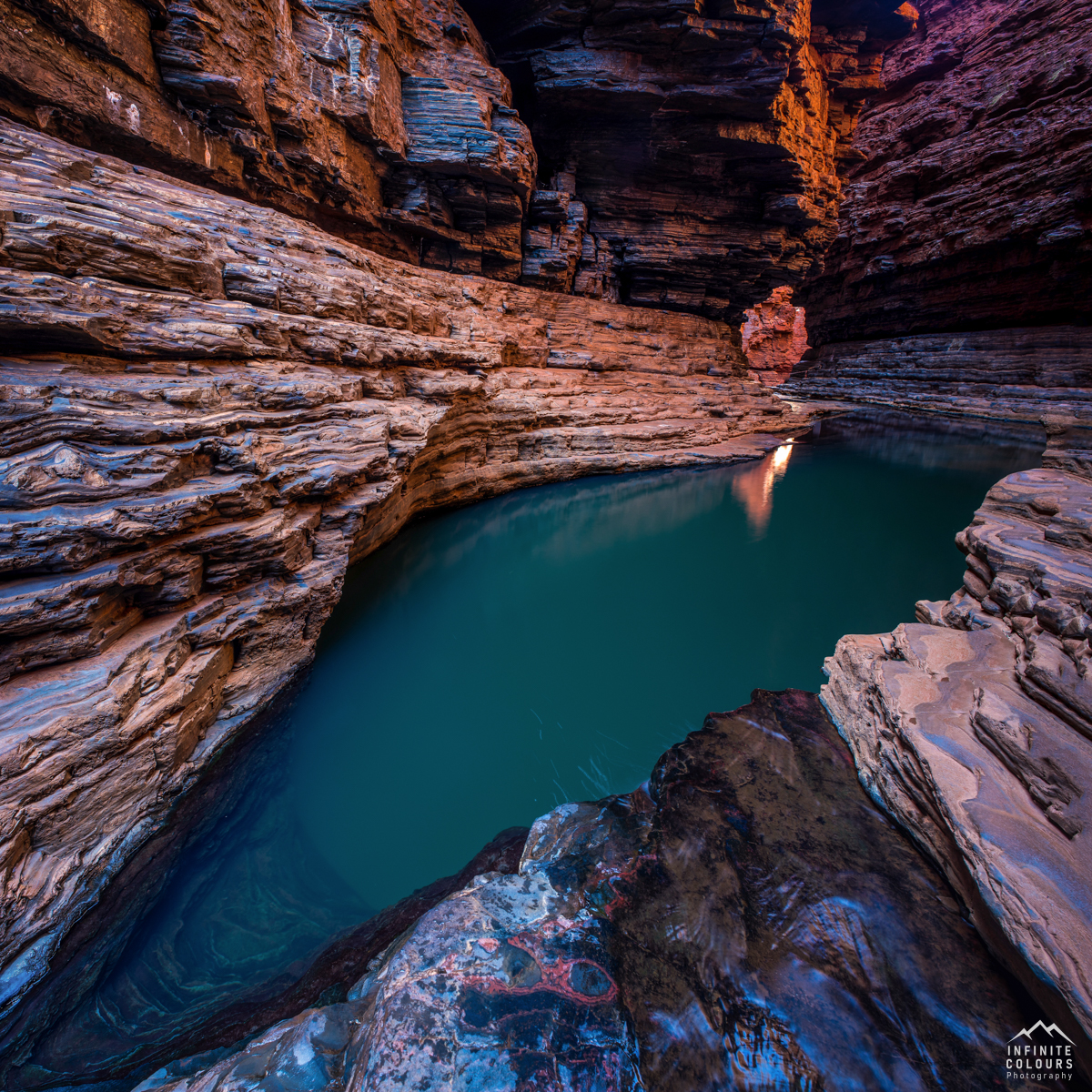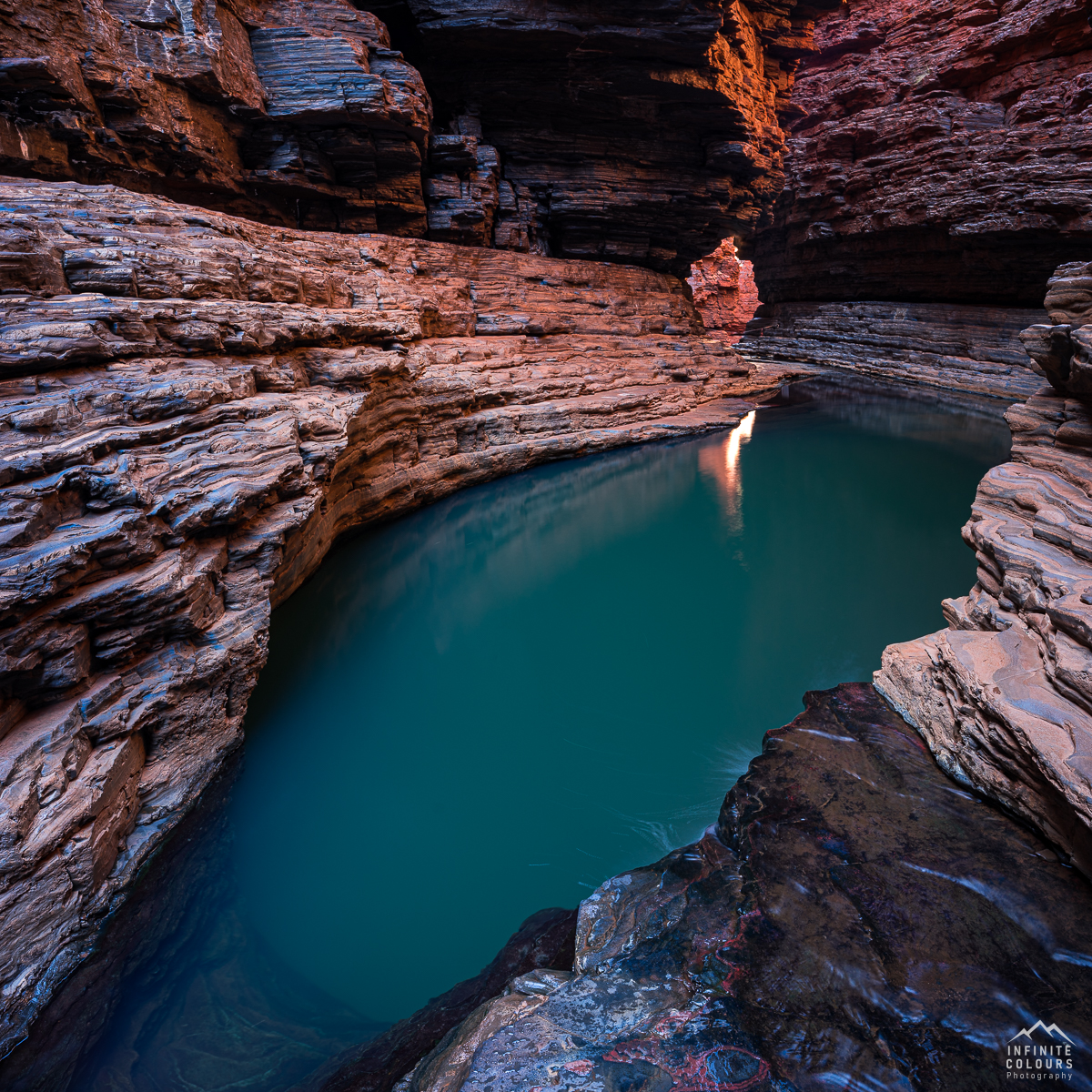 Behind the wonderful Kermits Pool, the gorge continues on, but it is simply too dangerous to venture any further without proper equipment or even better, a guide.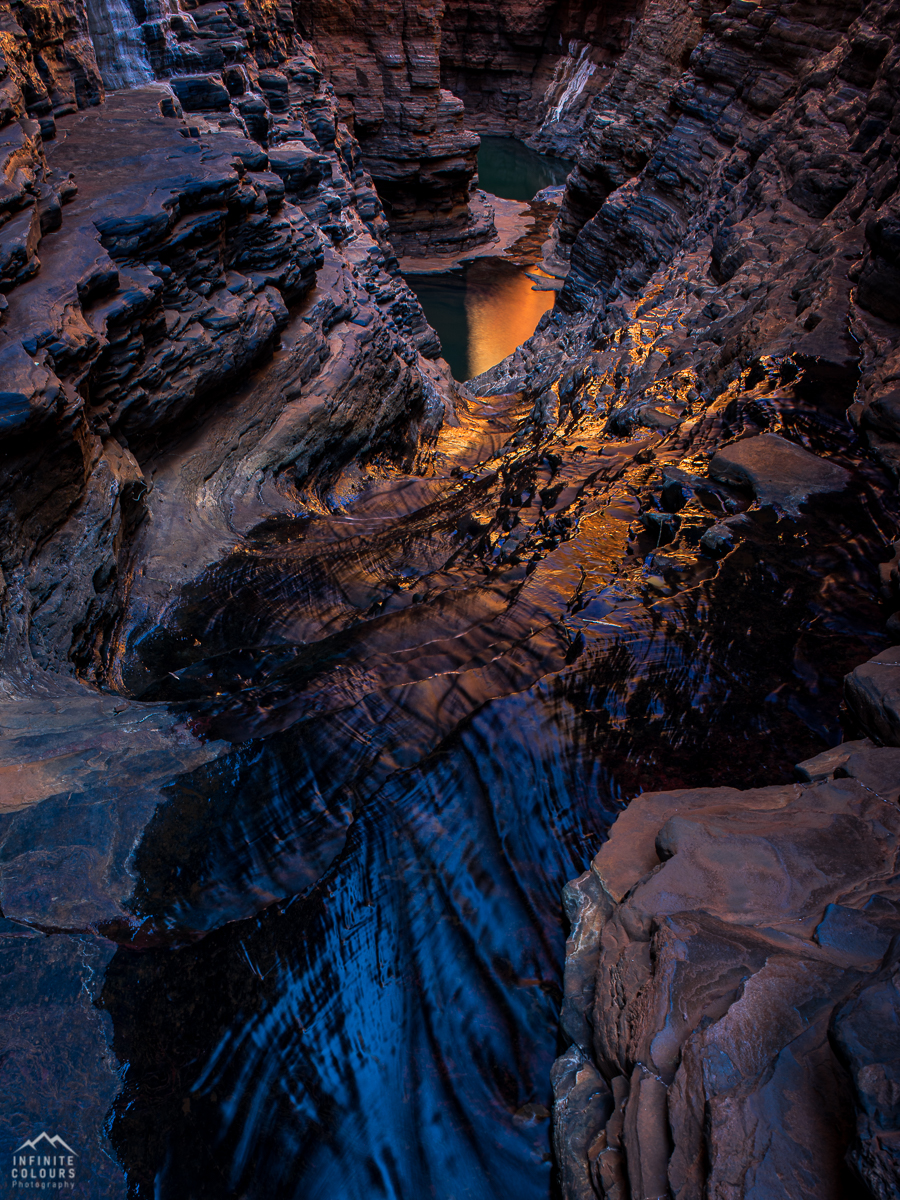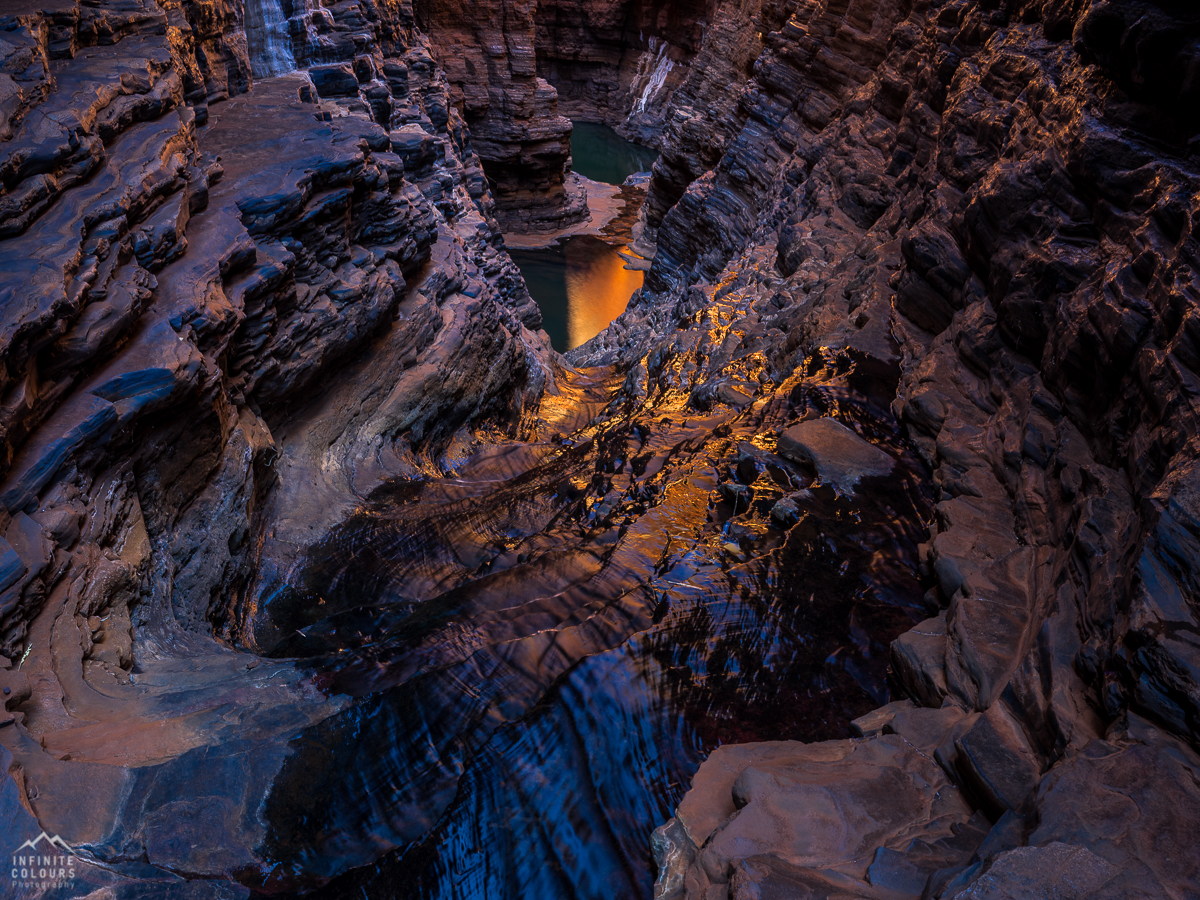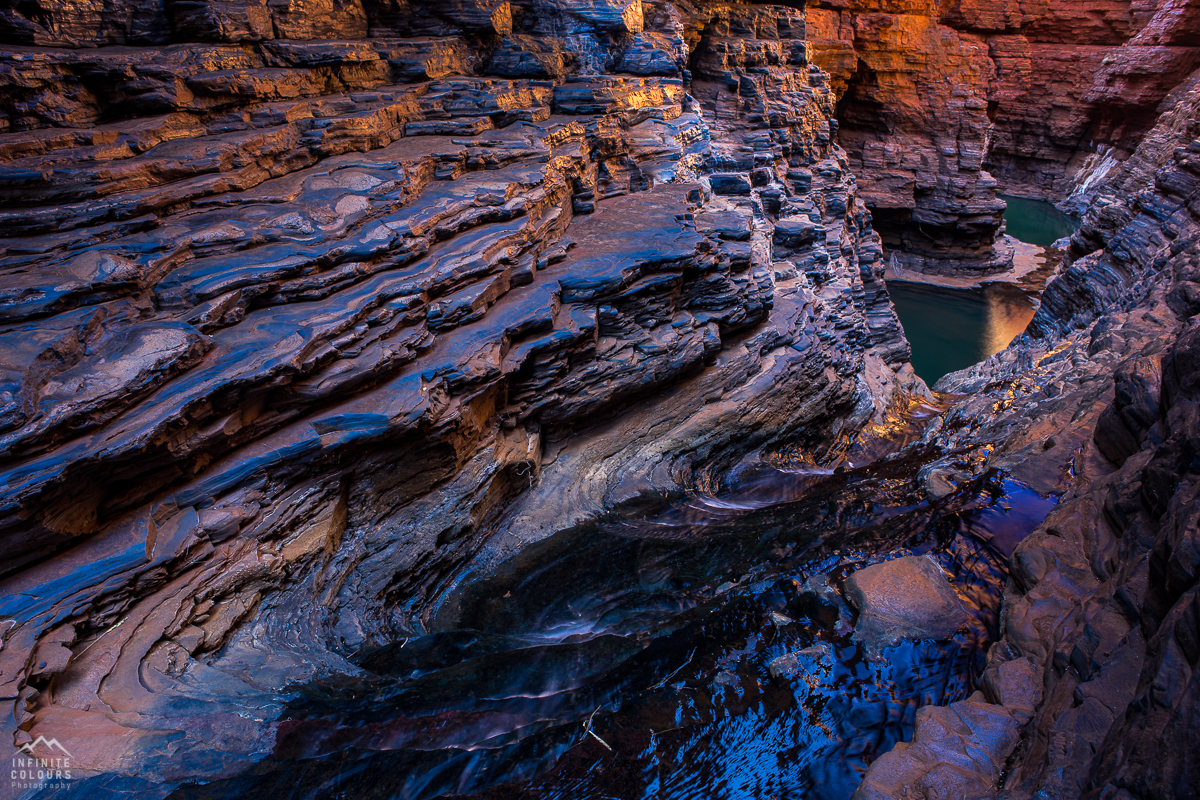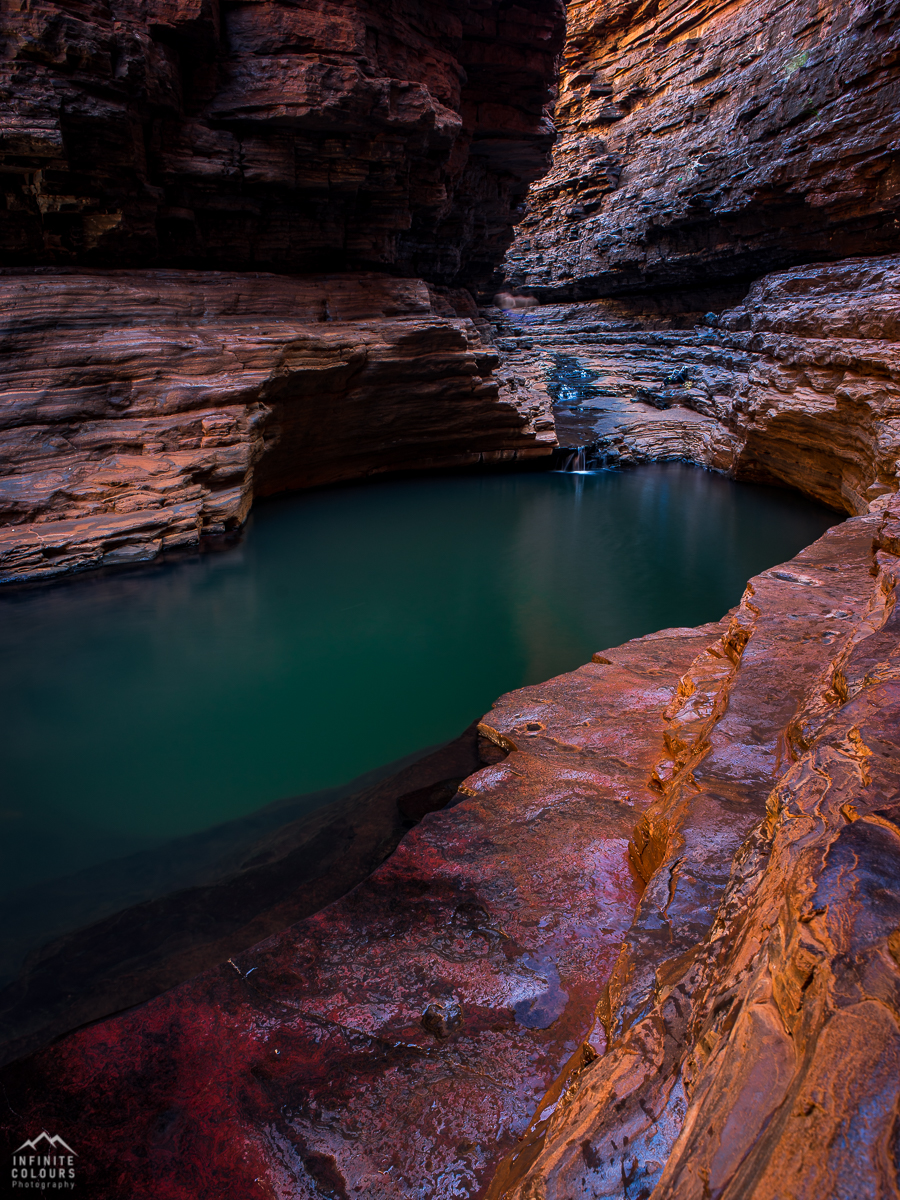 A real fun part of this short walk is the apptly named Spider Walk, a section where you need to stretch your arms and legs out to straddle a gap over a small waterfall and move along the walls.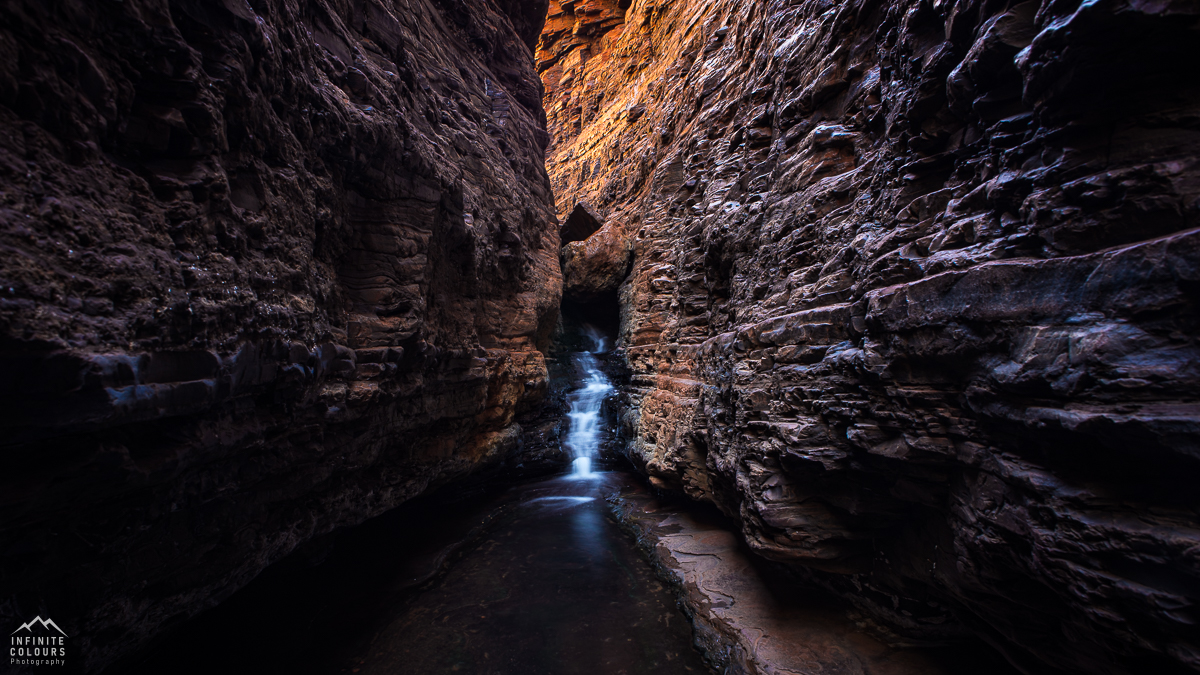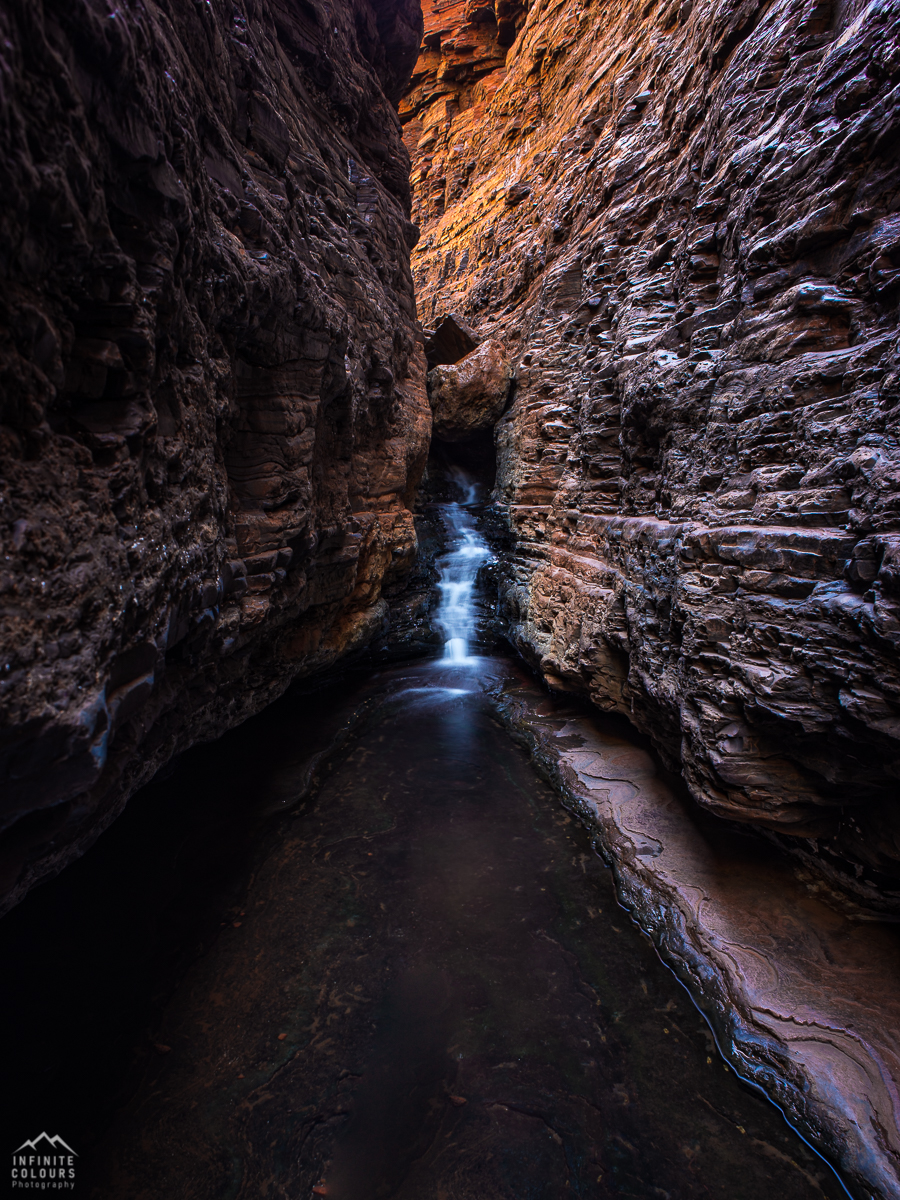 We spent the entire morning exploring a couple of 100 meters of this stunning gorge. When we got out around noon, it was already so baking hot we almost couldn't move. Just find a decent place to pitch the tent and chill the day away next to some waterhole.
Dales Gorge for example hosts some spectacular, easily accessible scenery for lasy days, with Fortescue Falls and Fern Pool just to name the obvious attractions.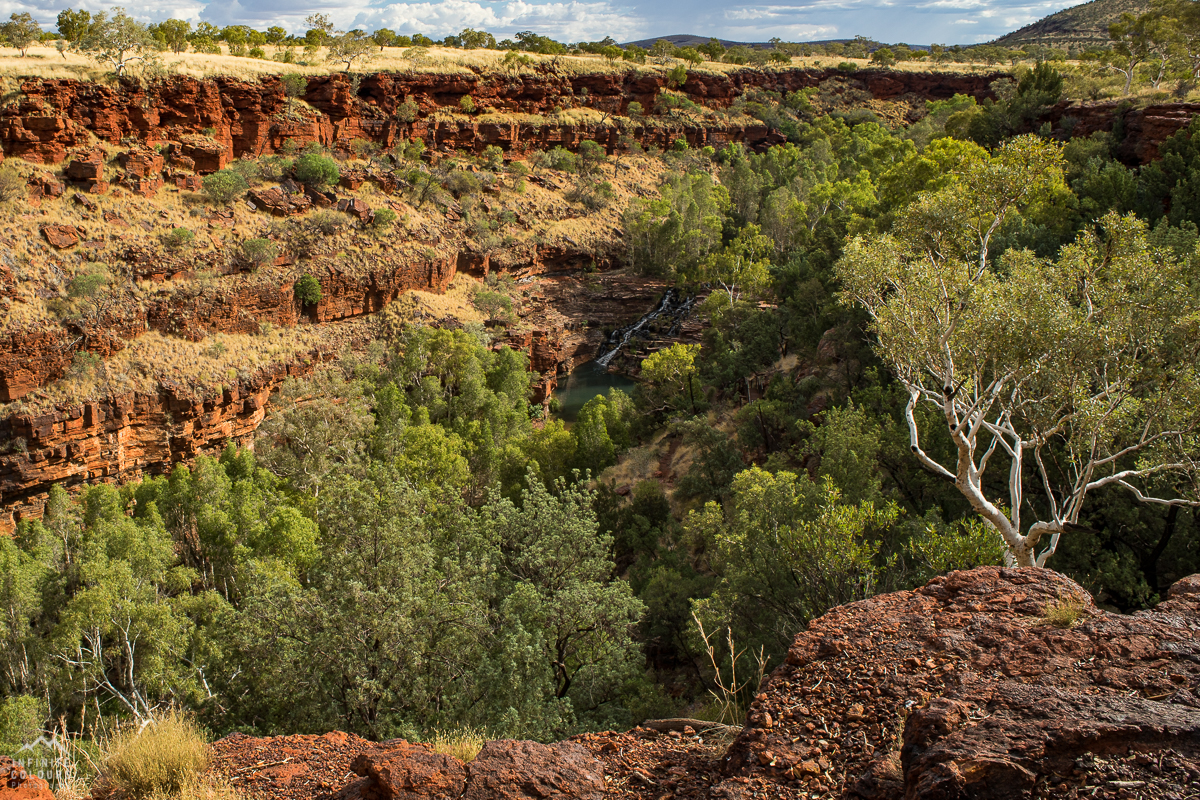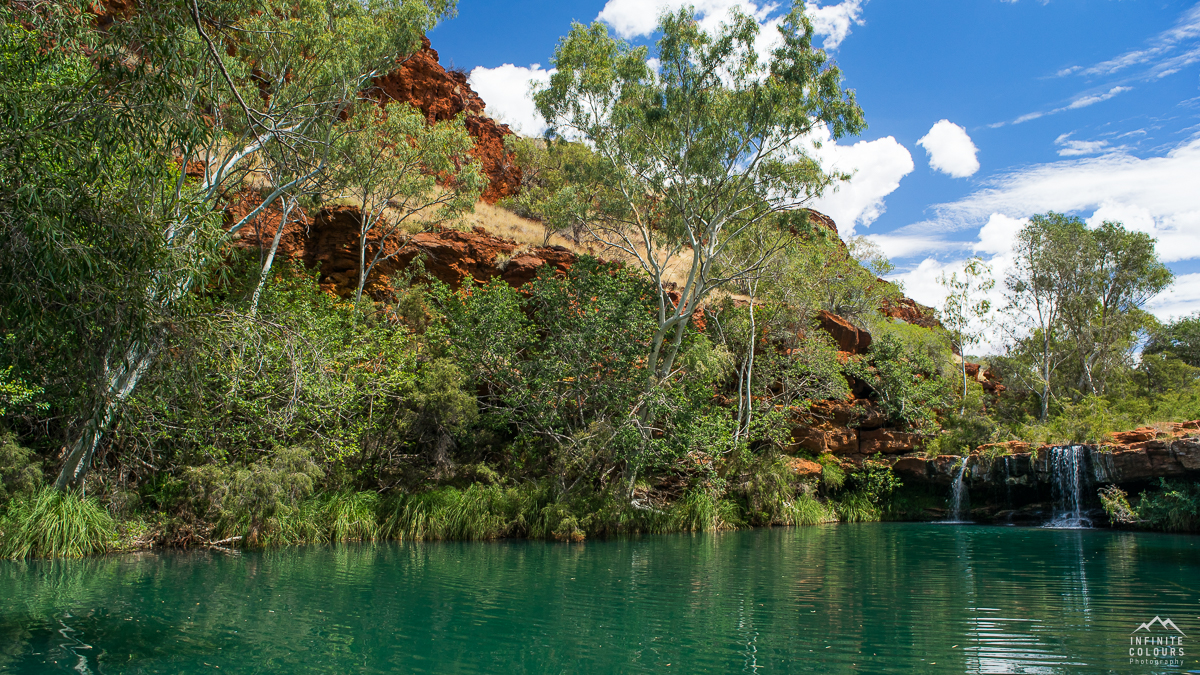 With a backcountry permit, we've been allowed to stay overnight in some of Karijini's more remote areas off the beaten trails. Definitely the proper way to really soak in the atmosphere of this unique environment.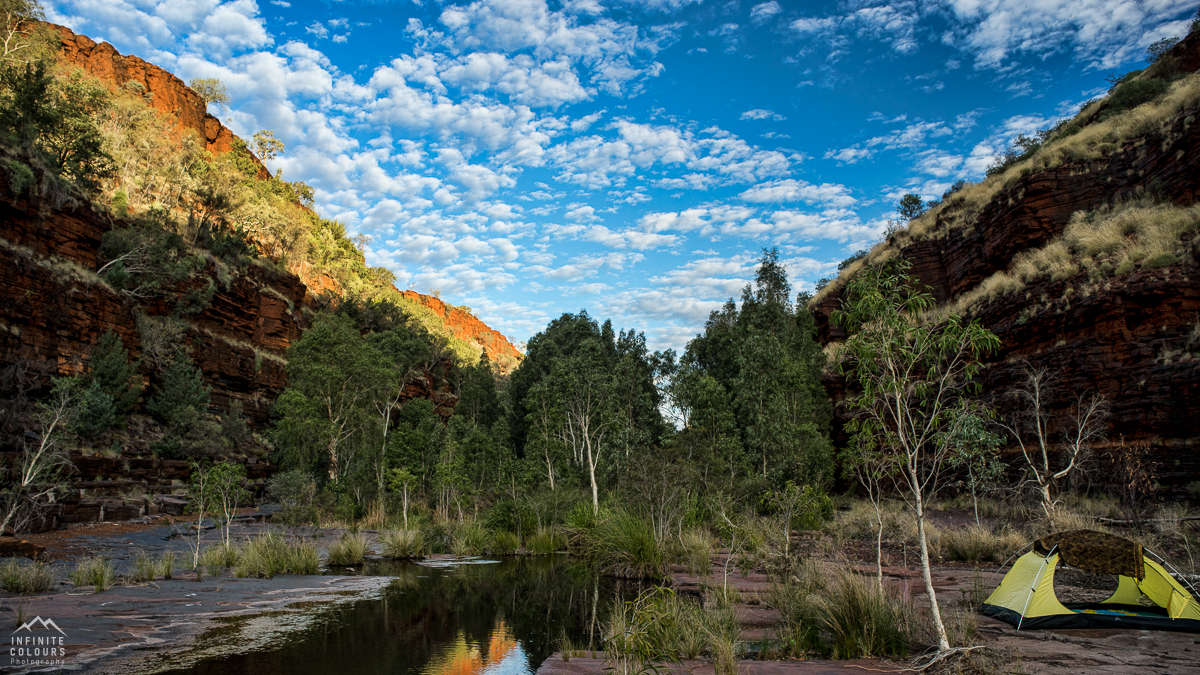 In Karijini, it's essential to bring your own water filtering device, if you plan to venture off the trails for more than just half a day or so. It can get so freaking hot there from dawn to dusk, the minute you drink it, you've already sweat it out. Not even once, we completed a whole route, we usually finished the day about half way in of what we've actually planned.
But the scenery was easily worth it. It was just lasier days, compared to our 'usual hiking' itinerary.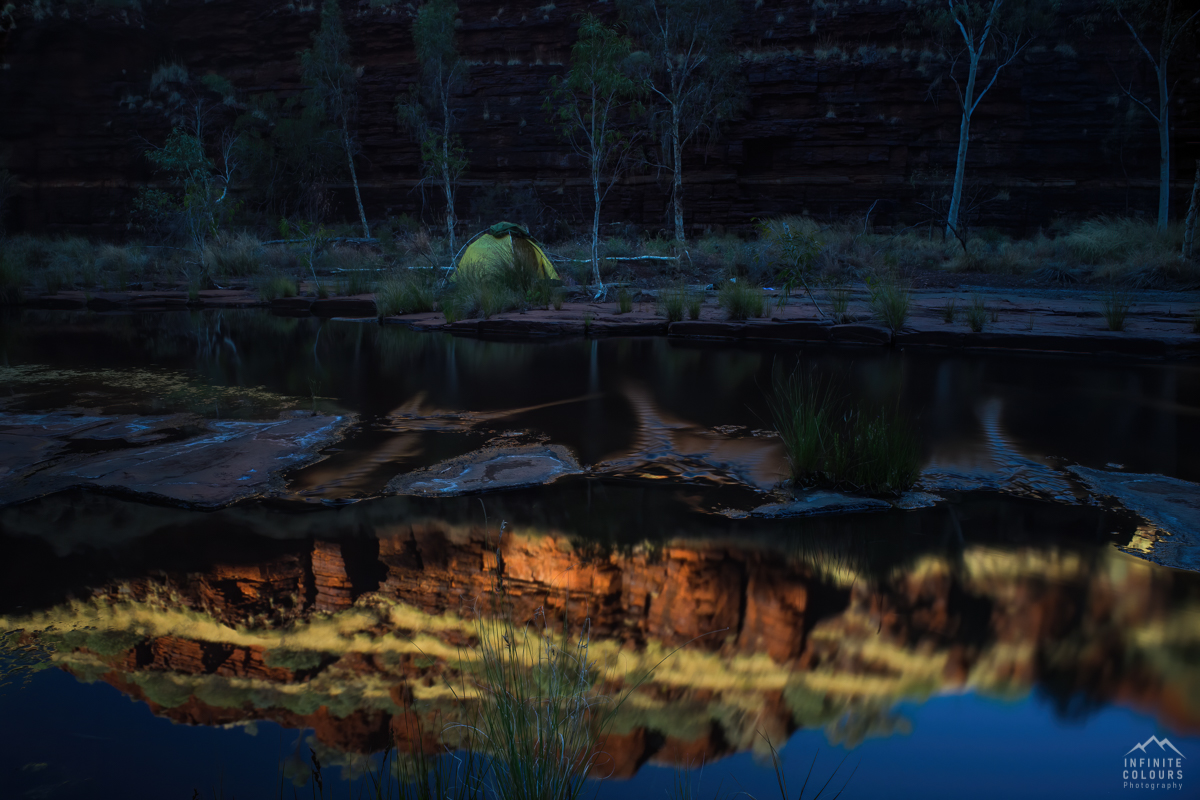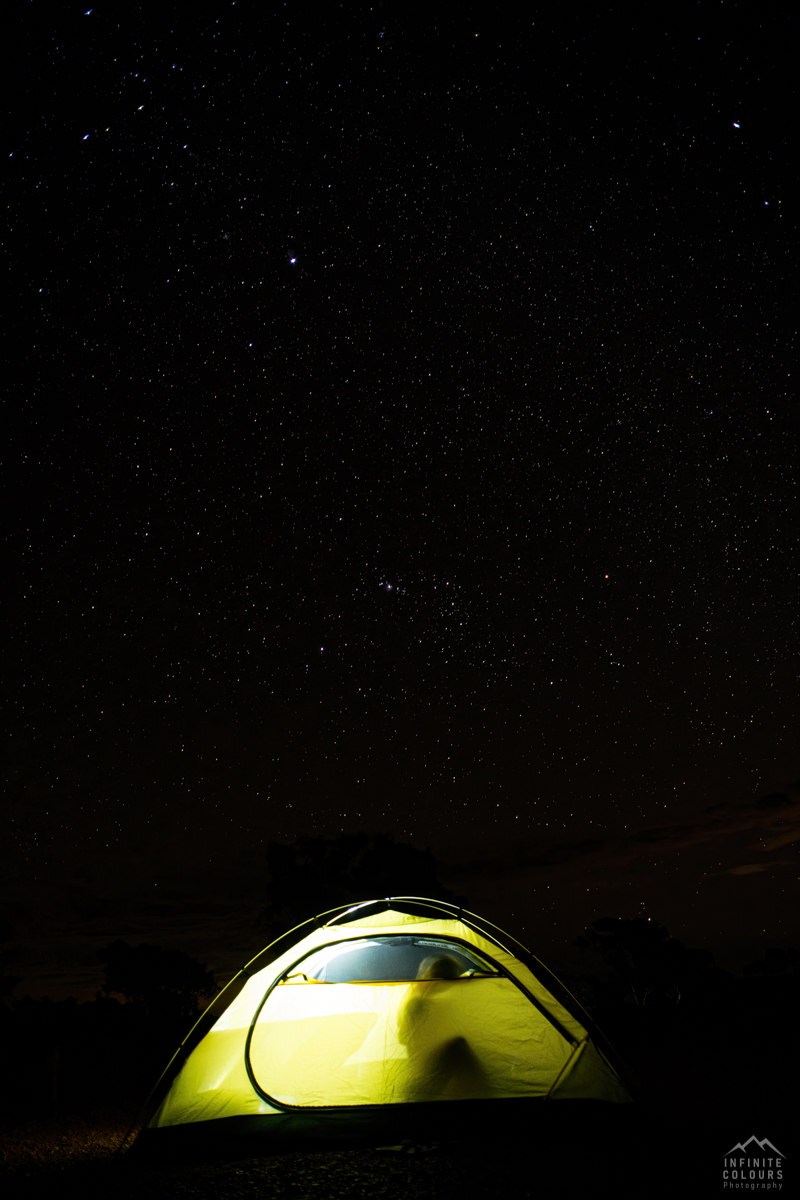 The next days we went off to explore some other gorges, namely Joffre Gorge and Kalamina.
Joffre's main waterfall was not too spectacular due to a lack of waterflow, it was more about scrambling a bit off route and discover the lesser 'famous' parts of the gorge, such as this beautiful staircase-like waterfall that seems to gently ripple down out of a red window.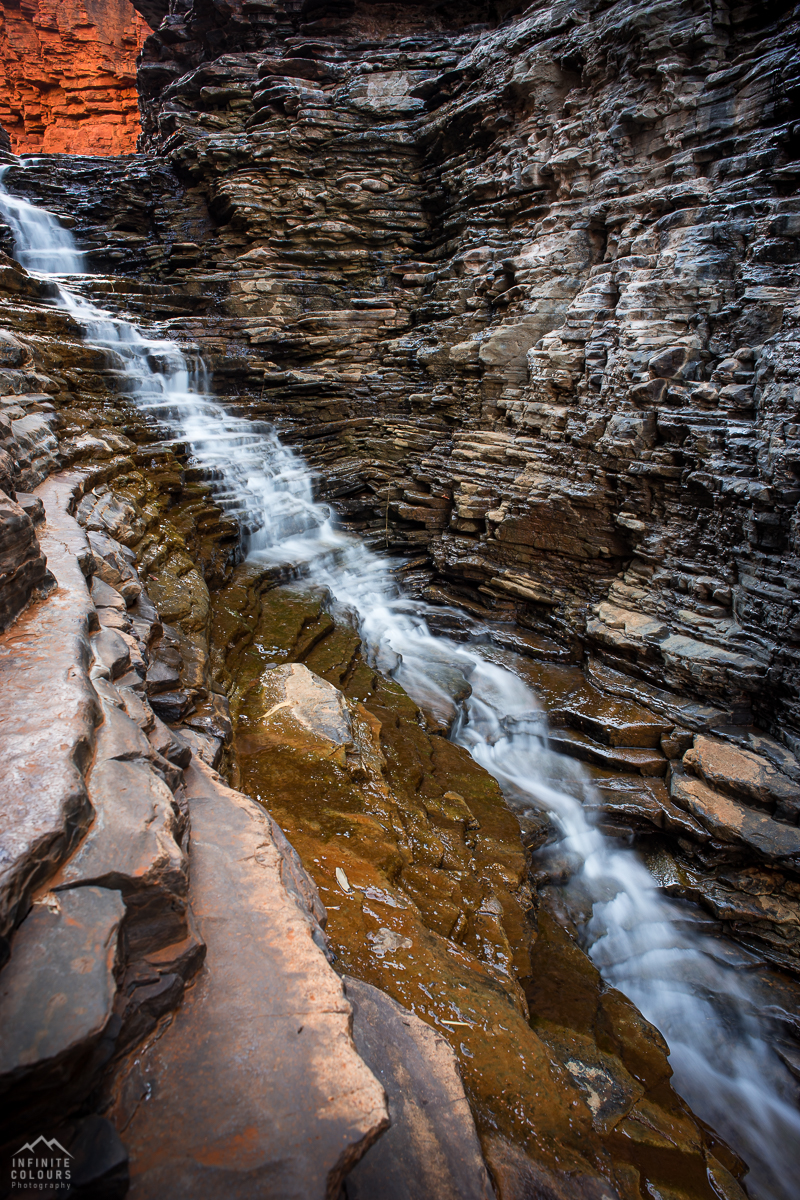 In Kalamina Gorge, we found a superb (= cool) camp site in a side arm of the main gorge. A beautiful place with our very own private swimming hole.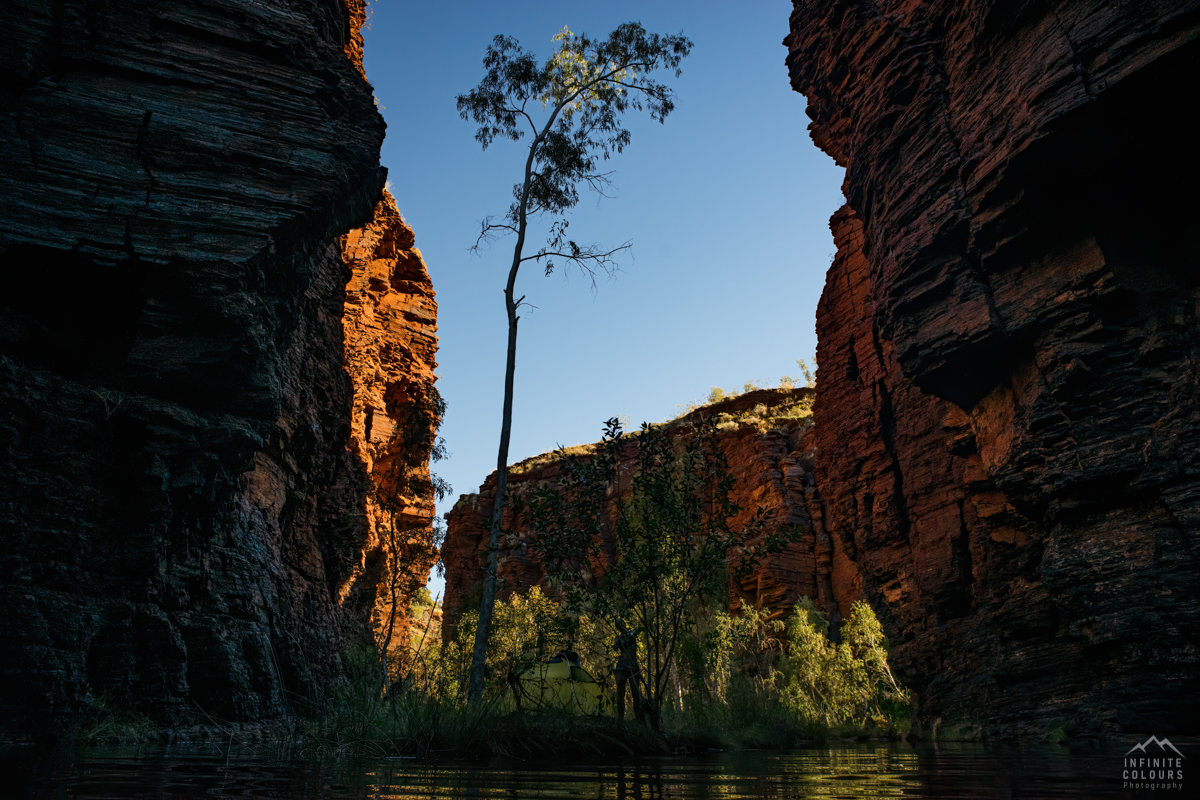 Hamersley Gorge – all about that iron
It was just when we arrived at Hamersley Gorge around dusk when mother nature rewarded us with one of those memorable moments. It's been a terribly hot day and the air was ladden with moisture as the rains passed by close to the gorge. The sky was almost completely covered with dark and heavy clouds when for just one brief moment the setting sun hit the distant rains in just about the right angle to create the spectacular illusion of the sky being aflame. Never before or after we've seen something like this. That's been one of those Favorite Moments that just stick in your mind, hopefully for a long time.
What a start to our last stop in beautiful Karijini!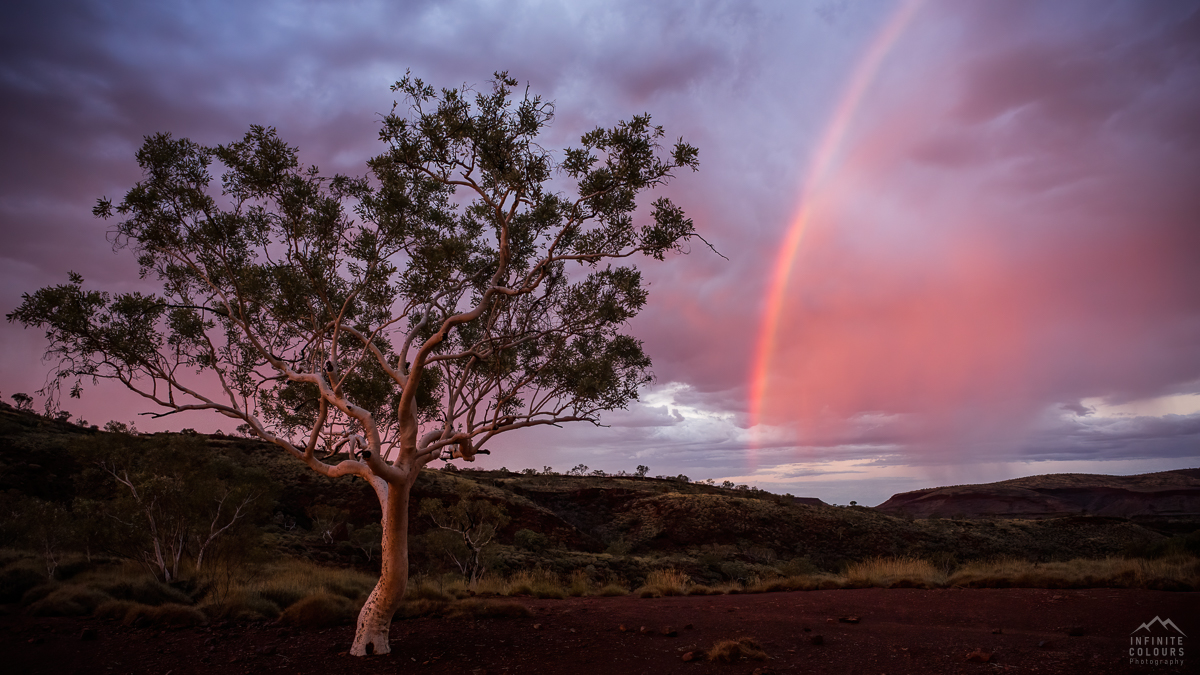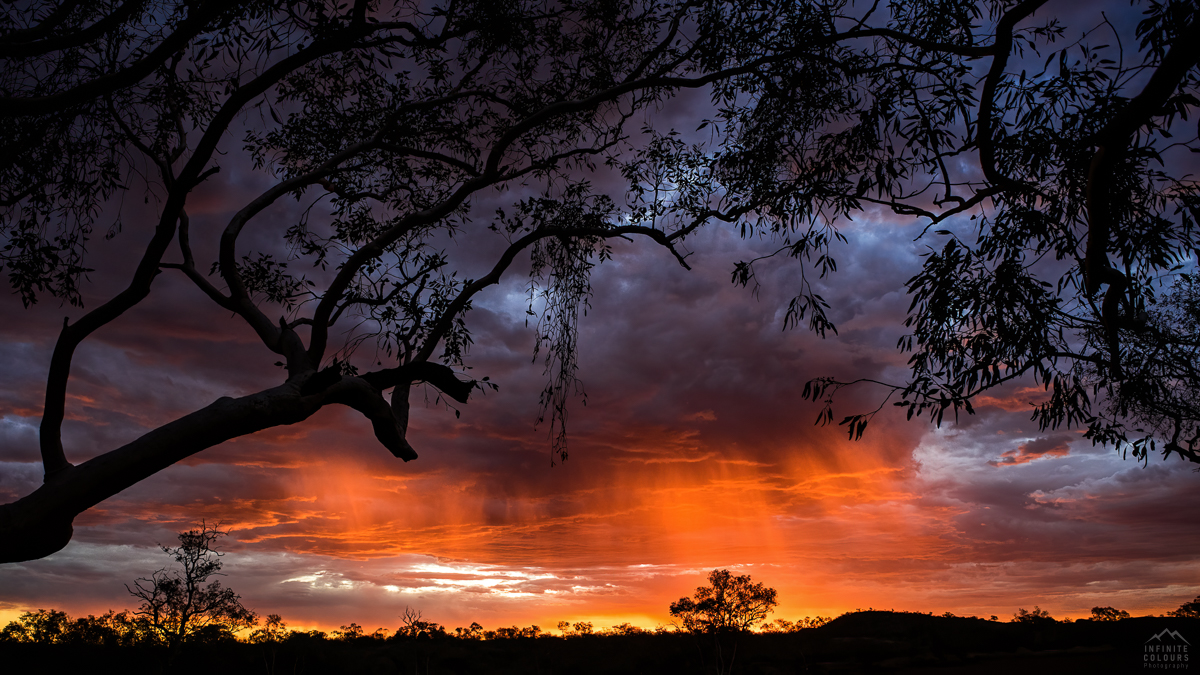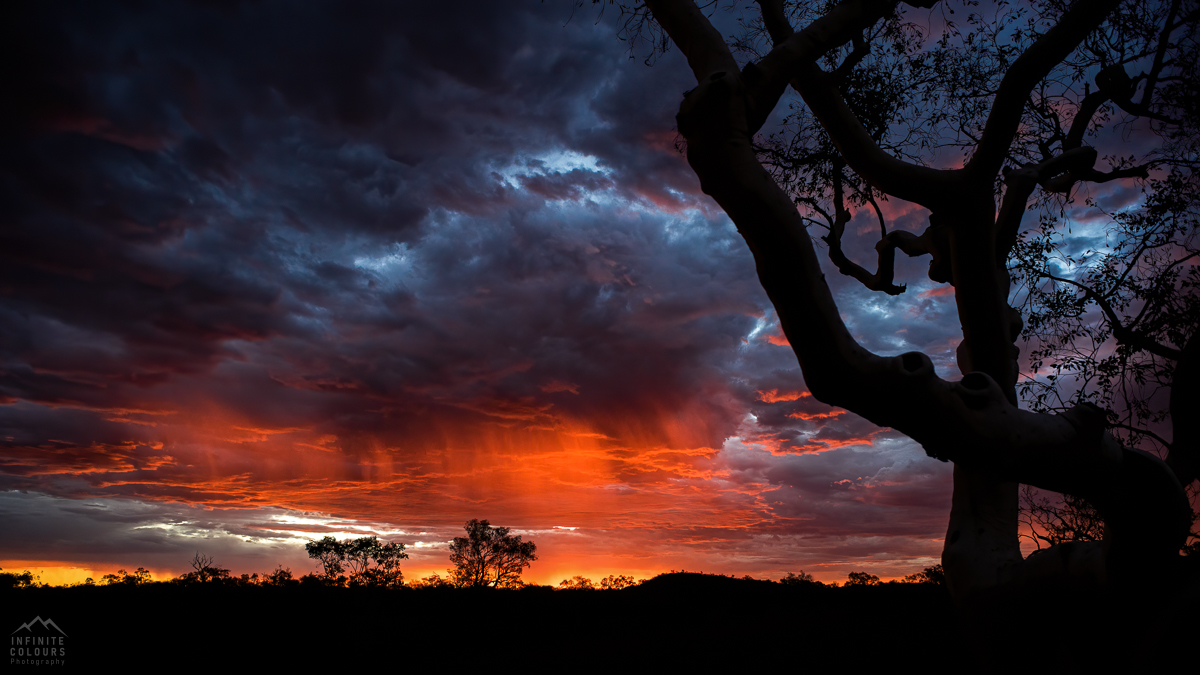 Karijini is for time travellers. The Hamersley Gorge area is known to be a window into the beginning of earth, a time when bacteria were the only inhabitants on our pretty young planet. Hamersley's colorful layers of rock are banded iron ores that formed more than 2500 million years ago at the bottom of a long-vanished ocean.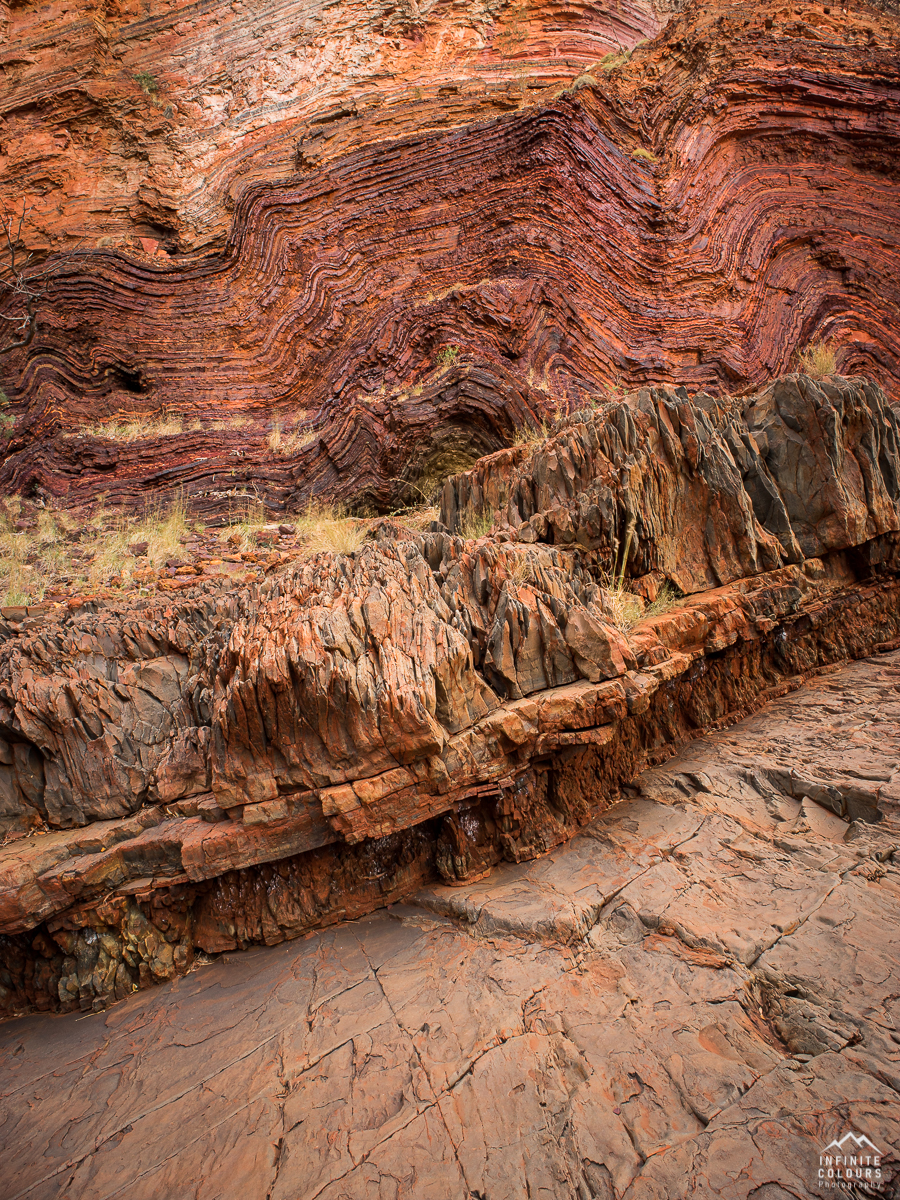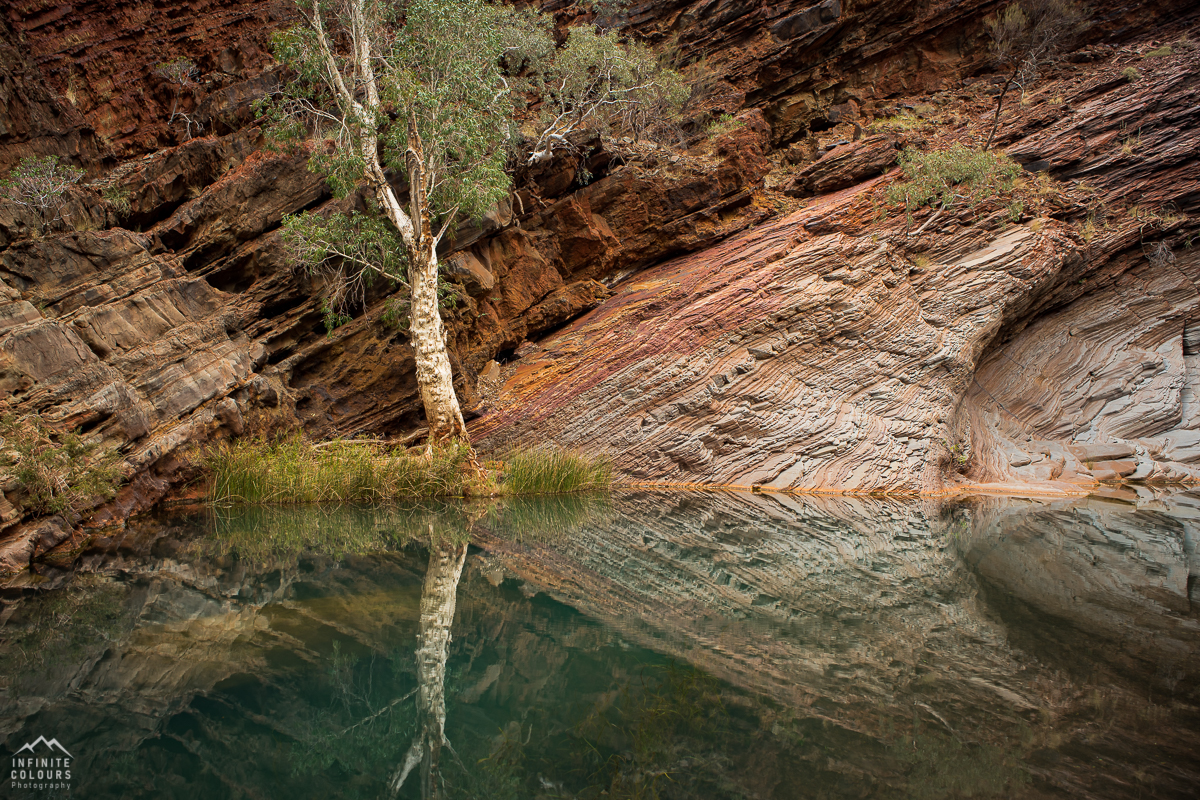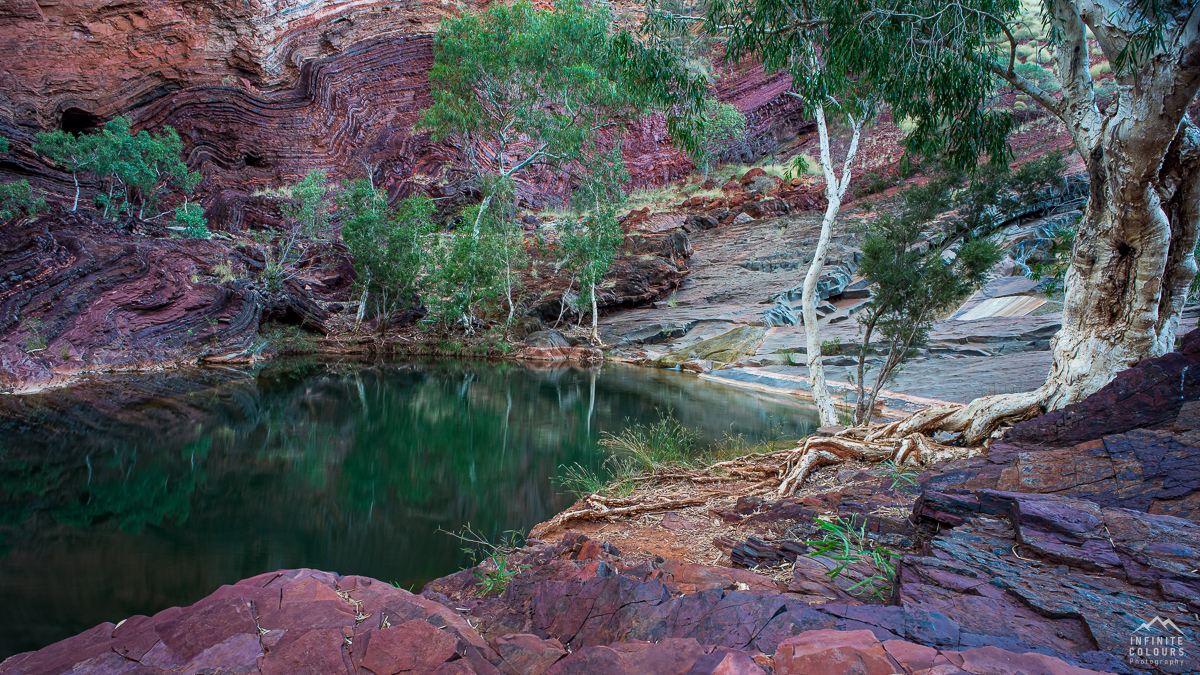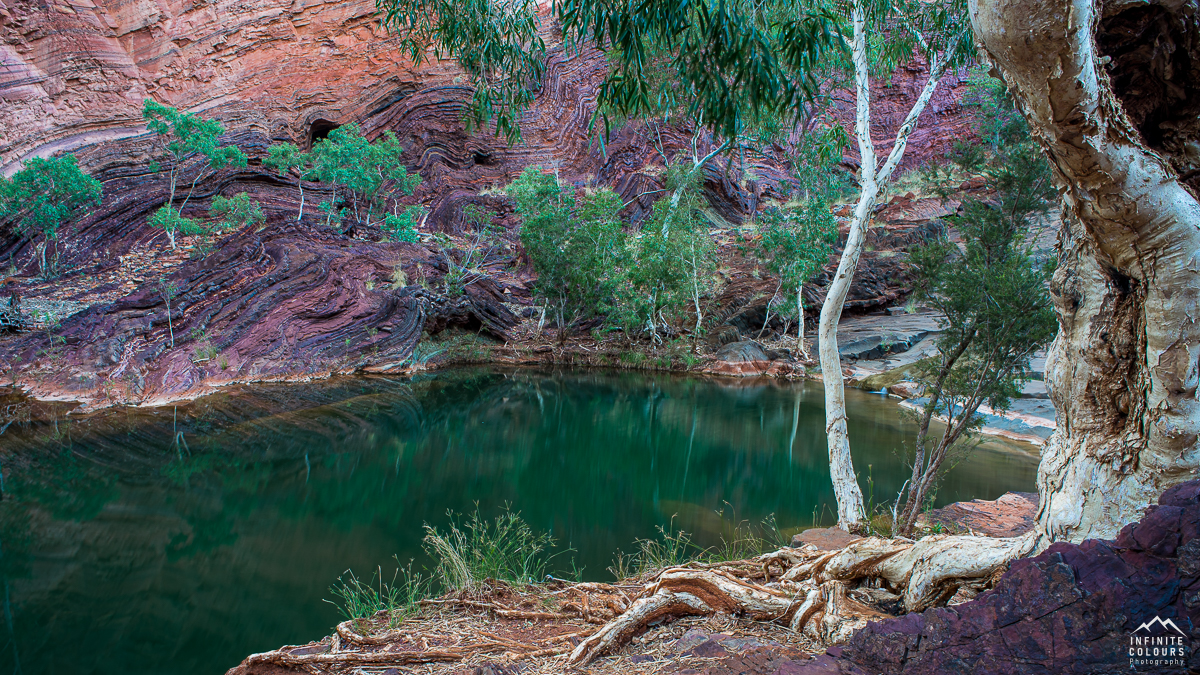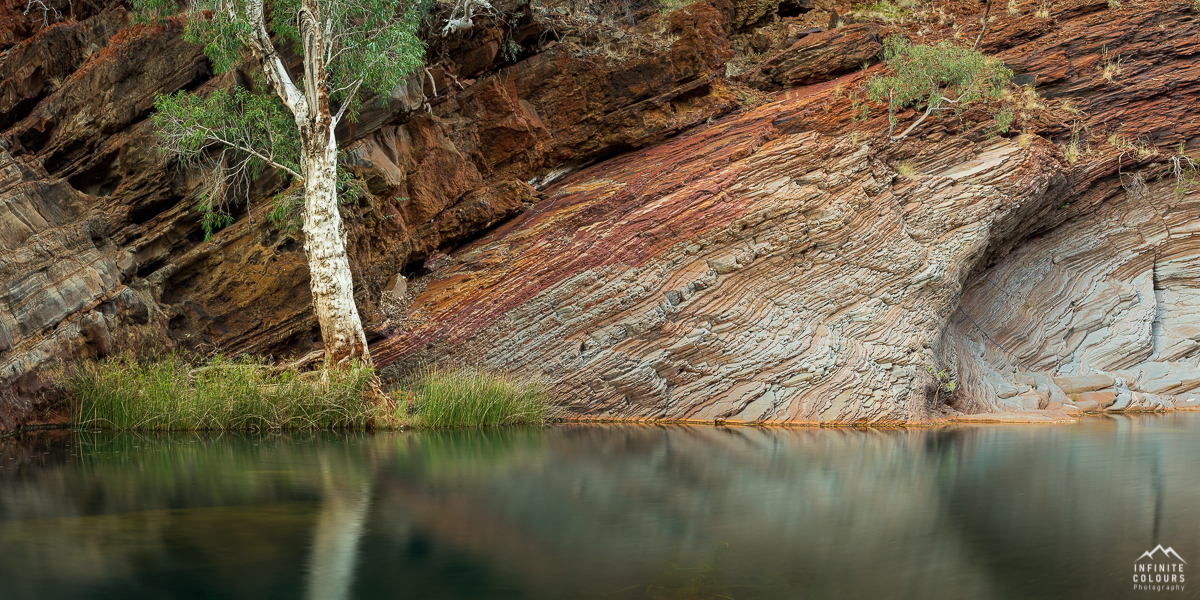 One of the gorge's highlights definitely is the the apptly named Spa Pool. An incredible emerald green small pond amidst a series of small waterfall cascades framed by grey to orange colored limestone, or dolomite, rock.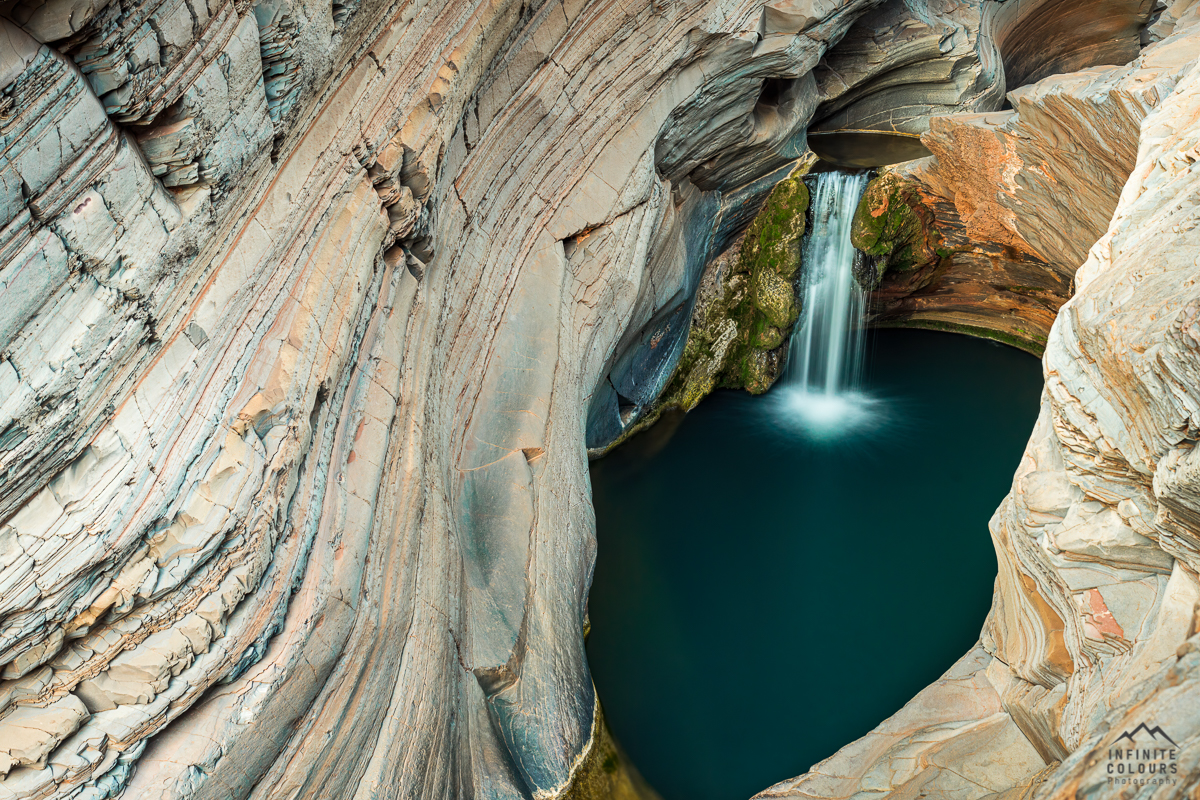 Spa Pool rests inside large curved walls and makes up for a great swimming spot as well. A real treat to take a dip in this Karijini gem before taking the long drive back to Port Hedland airport.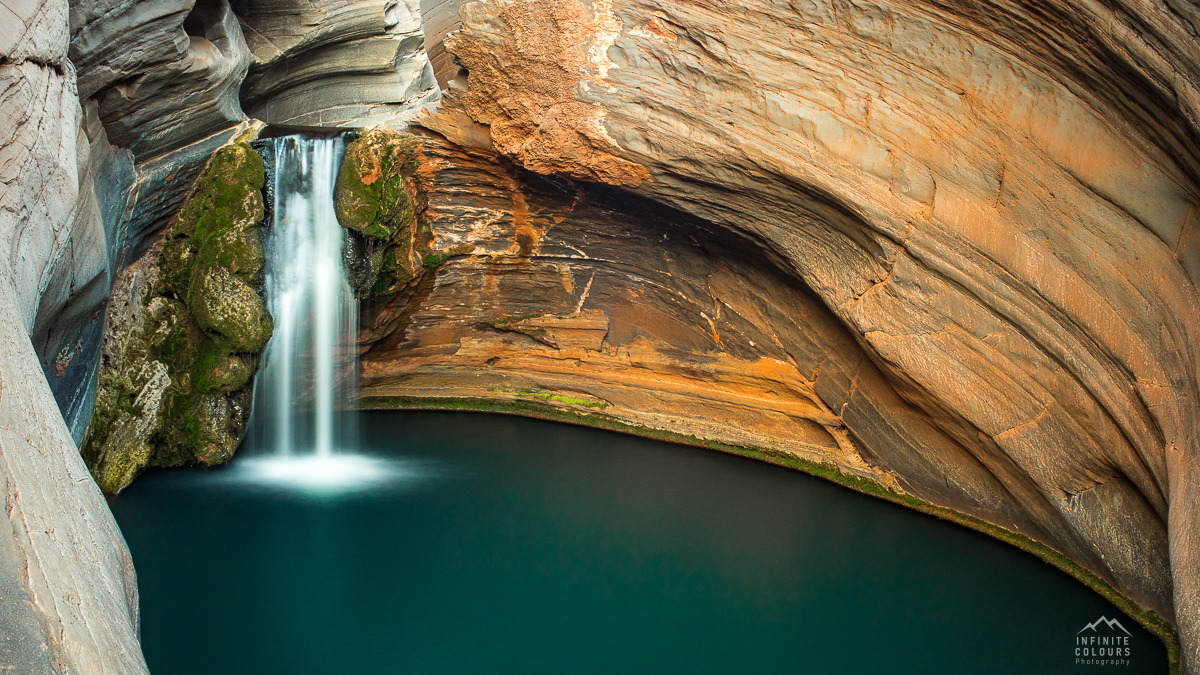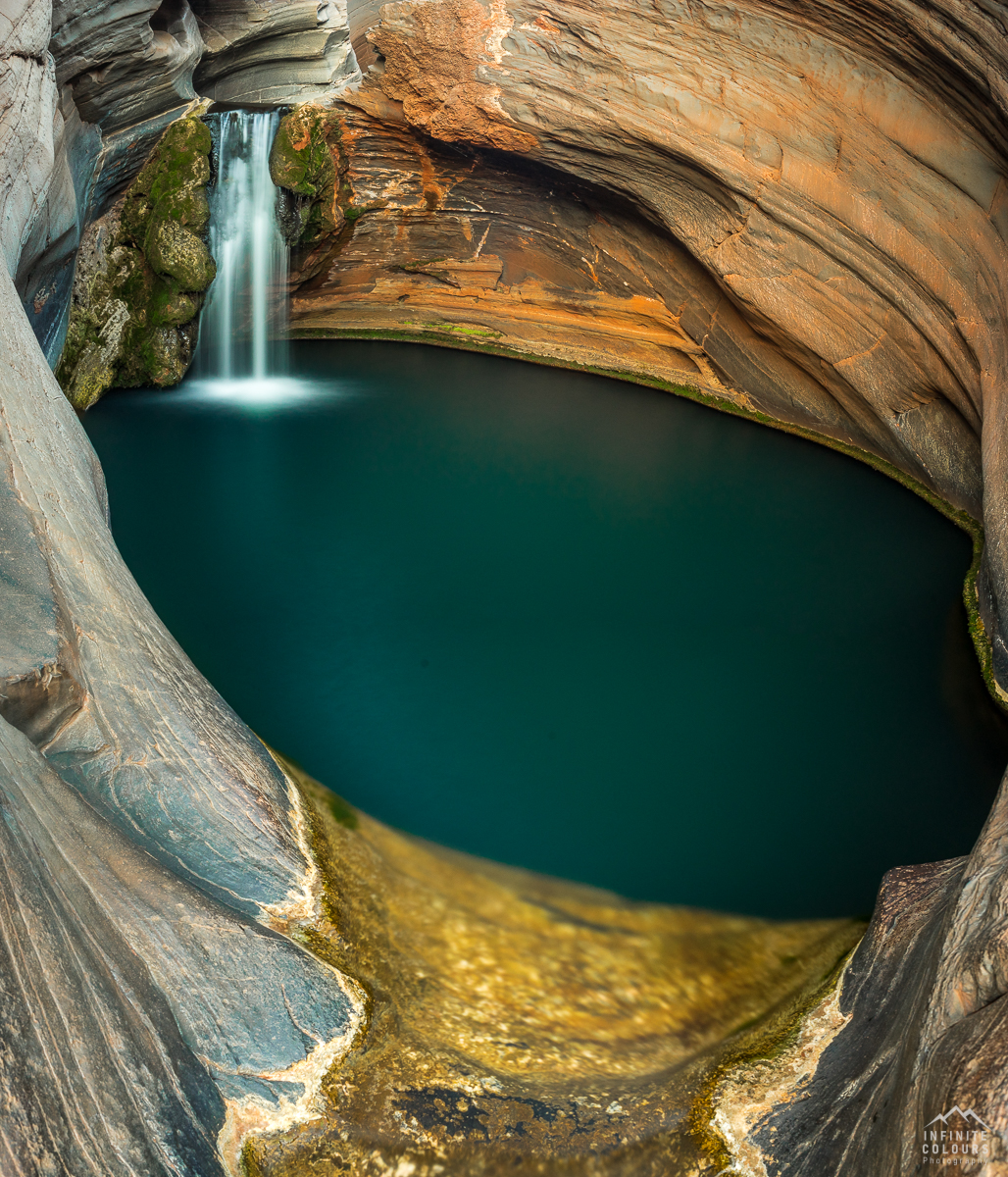 By any means, Karijini easily qualifies as one of Western Australias most spectacular nationalparks. We deeply appreciated the time we've spent in this remote part. Flying in-and-out via Perth, our stay in Karijini was also framed by some exzra time exploring WA's beautiful southwestern shoreline.
Beach life in Southwestern Australia
Not to forget, Western Australia also hosts some beautiful stretches of coastline. We've had a couple of days left to explore some really good parts of it, just about the right contrast program to Karijini's stark desert beauty.
Yallingup, located on Western Australia's rugged south west coast, rocks its own Nature's Spa Pool. And just like in Karijini, this a truly remarkable place, just cometely different. When the tide is right, the waves crash on the nearby offshore rocks and the overflow creates two waterfalls that feed into an otherwise calm pool of crystal clear saltwater.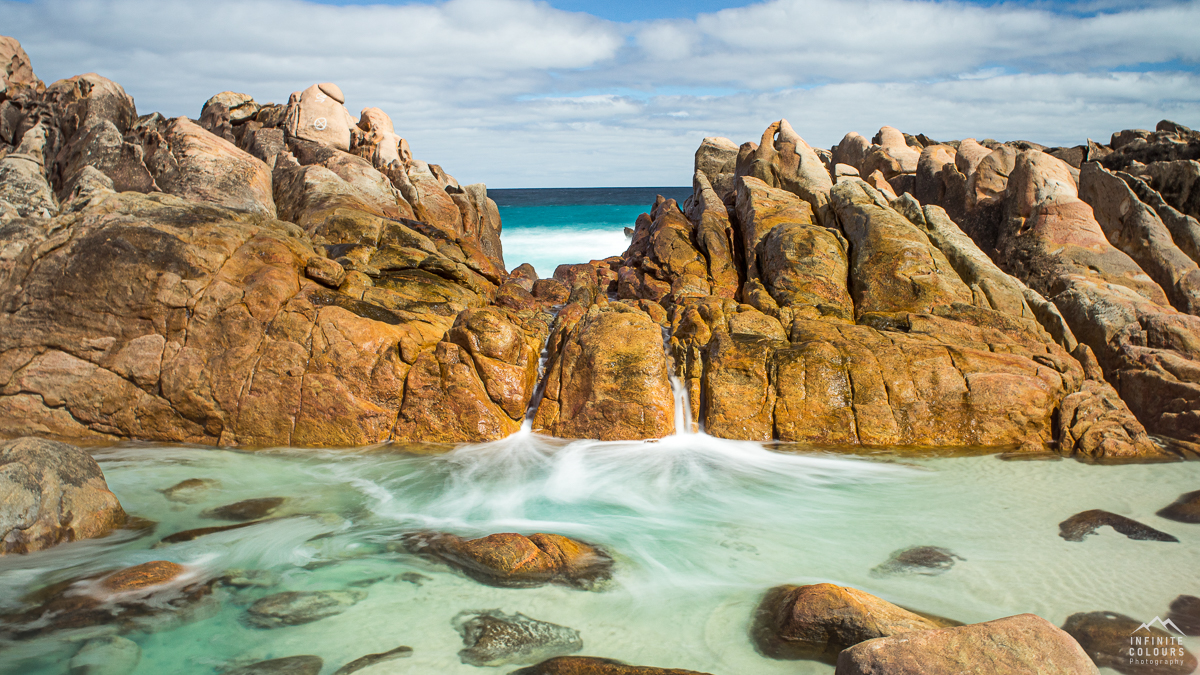 Elephant Rocks cove is a wonderful stretch of Western Australia's Rainbow Coast. It was the most crowded part of our whole WA visit, but for a good reason: easily accessible, good infrastructur and incredible beaches, white sand and crystal clear water.

We also hiked some sections of the Bibbulmun Track in Williams Bay nationalpark. There are tremendous coastal views from the backcountry, for example from William Bay campsite close to Tower Rock.

WA doesn't disappoint wherever we roamed, a remarkable territory which we'll hopefully visit again some day..